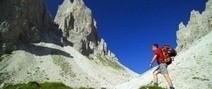 La scelta di Pellarini: una vita più sana fra la natura e non più schiava del denaro. «Chi partecipa stabilisce il valore dell'escursione e poi via allo "scambio merci"»
FORNI DI SOPRA. «S-cambia Carnia, lasciamo a casa i soldi». Quest'estate a Forni di Sopra sarà possibile prendere parte a gite guidate pagandole con uno "scambio merci". A proporle Paolo Pellarini, 43enne guida naturalistica udinese che una decina d'anni fa da Udine ha deciso di andare a vivere fra le montagne fornesi. Una scommessa iniziata sabato scorso con un'escursione nel Parco naturale delle Dolomiti friulane e che proseguirà sabato 27 luglio, il 10, il 24 e 31 agosto. per la durata di 3 ore, dalle 9.30 alle 12.30.
Pellarini, laureato a Trieste in Scienze naturali, in gioventù ha lavorato in un ufficio di informatica a Udine, sino a quando ha conosciuto la compagna della sua vita, Cristina, una bionda tedesca con l'amore per la natura.
Da questo incontro la "scossa" che lo ha portato a recarsi a Forni di Sopra per attivarsi nel campo per il quale aveva studiato, fare cioè la guida naturalistica e l'istruttore di mountain bike, unendo la passione per le passeggiate e la natura con un impegno che potesse dare le giuste risposte economiche per la nuova famiglia allietata nel frattempo dall'arrivo di due pargoli.
Quest'anno Pellarini ha deciso di proporre uno scambio di ore, di lavoro, di merci, quale corrispettivo del suo operato. Così, come un tempo nelle zone più agresti ci si recava per un consulto dal medico, dal notaio o dal geometra con una gallina, due uova o un coniglio, ora si può conoscere l'ambiente montano "pagando" con altre merci, rifuggendo il denaro.
«Quanto vale – si è interrogato Paolo – una passeggiata per conoscere le erbe buone o velenose, le impronte degli animali o la storia di una valle? Quanto vale una marmellata, un vino o una conserva fatta in casa? Questa estate a Forni di Sopra ci saranno cinque escursioni pagabili esclusivamente con il baratto: chi partecipa stabilisce il valore di un'escursione. Vanno bene tutti gli oggetti utili, ma soprattutto beni alimentari fatti in casa, biologici o naturali, conservabili e soprattutto buoni».
Per Pellarini per dare un valore alle diverse esperienze non si deve necessariamente monetizzarle: «Una semplice marmellata, come altri prodotti, fatta con cura, con prodotti genuini, raccolti nei campi o coltivati direttamente, spendendo il proprio tempo, ha un valore diverso da quel prodotto simile che si acquista al supermercato. Bisogna dare più senso alla qualità, riducendo la necessità del denaro che tende a conformare tutto».
Una scelta di vita, la sua, una filosofia praticata anche nella costruzione della propria casa clima, secondo un progetto di autosufficienza energetica e alimentare che contempla sia il prato sia l'orto per non dipendere dal soldo ed essere più liberi.
Articolo di Gino Grillo pubblicato sul Messaggero Veneto
See on Scoop.it – Dolomiti in Vacanza – Dolomites on holiday
ACTM Ltd's insight:
A revolutionary way to visit the Dolomites! your time or goods in exchange of a guided visit with an expert guide.
In July and August 2013, only in Forni di Sopra, Dolomites, Italy!
Contact us for more details and to reserve your accommodation.